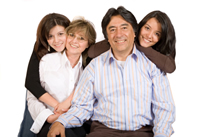 Request a Quote | Manage My Policy
Whether it's coverage for your home, auto, valuables or a personal umbrella, we can design a personal insurance program that is tailored to meet your specific needs. Our goal is to help you secure the proper coverage at a competitive price. It pays to have insurance coverage you can count on.
Our goal is to protect you and your family if an unfortunate event occurs that could pose a financial/mental burden. We accomplish this by researching the coverage based on your needs, and proposing the products that meet those needs. We also strive to build long term relationships by providing our customers with options for their insurance needs. Your security and the protection of your family is our main priority.
Our friendly staff is here to answer all of your insurance questions.