How to protect your family and get an Apple Watch Series 3 for $25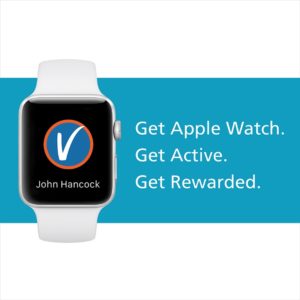 John Hancock Life Insurance company is making waves in the life insurance market with their Vitality Program. For new policyholders, they are offering a free FitBit Alta or an Apple Series 3 watch for $25 plus tax!
Yes please sign me up!
Nothing is free of course, in this case you do need to apply for a life insurance policy with John Hancock and be approved. Once you have your policy, you will sign up for the Vitality program and start earning rewards through health activities like working out or going for walks.
John Hancock is offering the free FitBit to all new policyholders and you can purchase the Apple Watch Series 3 for an extra fee of $25 plus tax. As long as you earn 500 points per month, after a twenty four month period the watch will be paid for with your points.
Read more about the program here
How do I apply?
If you are interested in hearing more about the program or would like a quote please reach out to Mike Sheeran, CFP and he will review everything.  Reach Mike at 609-8576642 or msheeran@glenninsurance.com
John Hancock offers many different policies so Mike will review low cost term insurance, including programs that don't require a physical. They also offer permanent life insurance that has access to even more rewards.
How much does it cost?
The cost of the life insurance will depend on your age, sex, overall physical health and type/size of the policy. Term insurance is very inexpensive and can cost as little as $9.45 per month for a $100,000 policy on a 40 year old female. Every situation is different though, so please reach out to us so we can help you evaluate your needs.
What if I change my mind?
If it makes sense for you to apply for a policy, but you do change your mind during the process, you can always walk away. Even up to the point you are approved. We make every effort to make sure you are getting exactly what you want, before applying but its always good to know you have options just in case.